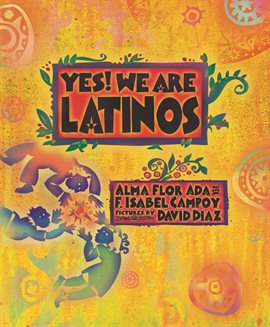 Title:
Yes! We Are Latinos!
Subject:
Juvenile Nonfiction
People & Places
Poetry
United States
United States - Hispanic & Latino
Digital Format:
Hoopla E Book
Summary
Juanita lives in New York and is Mexican. Felipe lives in Chicago and is Panamanian, Venezuelan, and black. Michiko lives in Los Angeles and is Peruvian and Japanese. Each of them is also Latino.

Thirteen young Latinos and Latinas living in America are introduced in this book celebrating the rich diversity of the Latino and Latina experience in the United States. Free-verse fictional narratives from the perspective of each youth provide specific stories and circumstances for the reader to better understand the Latino people's quest for identity. Each profile is followed by nonfiction prose that further clarifies the character's background and history, touching upon important events in the history of the Latino American people, such as the Spanish Civil War, immigration to the US, and the internment of Latinos with Japanese ancestry during World War II.

Alma Flor Ada and F. Isabel Campoy's informational yet heartwarming text provides a resource for young Latino readers to see themselves, while also encouraging non-Latino children to understand the breadth and depth of the contributions made by Latinos in the US. Caldecott Medalist David Diaz's hand-cut illustrations are bold and striking, perfectly complementing the vibrant stories in the book.

YES! WE ARE LATINOS stands alone in its presentation of the broad spectrum of Latino culture and will appeal to readers of fiction and nonfiction.
Author Notes
Alma Flor Ada was born in 1938 in Cuba.
She has authored several children's folktales including "Encaje de Piedra" which earned her the Marta Salotti Gold Medal, "The Gold Coin" which won the Christopher Award, and "Gathering the Sun" which received the Once Upon a World Award. "The Lizard and the Sun/La Lagartija y el Sol" won her a Gold Medal from the National Association of Parenting Publications, and she was awarded an Accolade from the American Folklore Association for "Mediopollito/Half-Chicken". Her title "Under the Royal Palms: A Childhood in Cuba" won the Pura Belpre Award.
In addition to writing, she is a professor at the University of San Francisco.
(Bowker Author Biography)