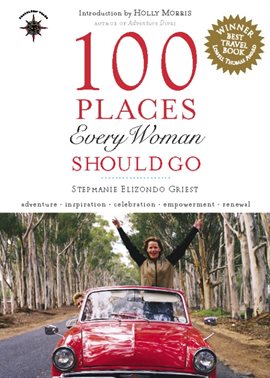 Title:
100 Places Every Woman Should Go
Author:
Stephanie Elizondo Griest
Digital Format:
Hoopla E Book
Summary
With its breezy reviews and insightful advice, 100 Places Every Woman Should Go encourages women of any age to see the world -- in a group, with a friend, or solo -- and inspires them to create their own list of dreams. Based on her own explorations of many countries, states, and regions, and on interviews with travelers, award-winning author Stephanie Elizondo Griest highlights 100 special destinations and challenging activities -- from diving for pearls in Bahrain to racing a camel, yak, or pony across Mongolia; to dancing with voodoo priestesses in Benin and urban cowboys in Texas; to taking a mud bath in a volcano off the coast of Colombia. Divided into such sections as "Places Where Women Made History," "Places of Indulgence," and "Places of Adventure," this guidebook includes timely contact information, resources, and recommended reading. "Ten Tips For Wandering Women" features safety precautions plus pointers on haggling, packing, and staying parasite-free. Vivid portraits of free spirits like Frida Kahlo ("A tequila-slamming, dirty joke-telling smoker, this famous artist was bisexual and beautiful") help travelers expand their experience.
Author Notes
Stephanie Elizondo Griest has mingled with the Russian Mafiya, polished Chinese propaganda, and belly danced with Cuban rumba queens. These adventures are the subject of her award-winning first book: Around the Bloc: My Life in Moscow, Beijing, and Havana (Villard/Random House, 2004). Atria/Simon & Schuster will publish her memoirs from Mexico in 2008. She has also written for the New York Times, Washington Post, Latina Magazine, and numerous Travelers' Tales anthologies. An avid traveler, she has explored 25 countries and once spent a year driving 45,000 miles across the United States, documenting its history for a Website for kids. She is currently a Hodder Fellow at Princeton University and a Senior Fellow at the World Policy Institute. Visit her Website at www.aroundthebloc.com.