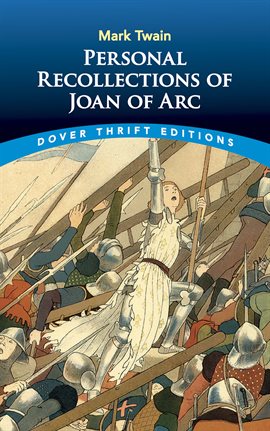 Title:
Personal Recollections of Joan of Arc
Digital Format:
Hoopla E Book
Summary
Regarded by many as the most luminous example of Twain's work, this historical novel chronicles the French heroine's life, as purportedly told by her longtime friend -- Sieur Louis de Cont#65533;. A panorama of stirring scenes recount Joan's childhood in Domremy, the story of her voices, the fight for Orleans, the splendid march to Rheims, and much more. An amazing record that disclosed Twain's unrestrained admiration for Joan's nobility of character, the book is matchless in its workmanship -- one of Twain's lesser-known novels that will charm and delightfully surprise his admirers and devotees.
Author Notes
Mark Twain was born Samuel L. Clemens in Florida, Missouri on November 30, 1835. He worked as a printer, and then became a steamboat pilot. He traveled throughout the West, writing humorous sketches for newspapers. In 1865, he wrote the short story, The Celebrated Jumping Frog of Calaveras County, which was very well received. He then began a career as a humorous travel writer and lecturer, publishing The Innocents Abroad in 1869, Roughing It in 1872, and, Gilded Age in 1873, which was co-authored with Charles Dudley Warner. His best-known works are The Adventures of Tom Sawyer, Mississippi Writing: Life on the Mississippi, and The Adventures of Huckleberry Finn. He died of a heart attack on April 21, 1910.
(Bowker Author Biography)