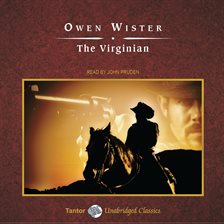 Digital Format:
Hoopla Audio Book
Summary
Owen Wister's powerful story of the silent stranger who rides into the uncivilized West and defeats the forces of evil embodies one of the most enduring themes in American mythology.
Author Notes
Owen Wister was born Philadelphia, Pennsylvania on July 14, 1860. He graduated from Harvard University in 1882 and studied musical composition in Paris for two years. He spent the summer of 1885 in Wyoming for his health. He graduated from Harvard Law School in 1888 and was admitted to the bar in 1889. He practiced law for two years in Philadelphia and continued to spend his summers in the West.
In 1891, after the acceptance by Harper's of two of his Western sketches, he decided to pursue a literary career. His works included Lin McLean, The Virginian, Lady Baltimore, and Roosevelt: The Story of a Friendship, 1880-1919. He also wrote a number of children's books. He died on July 21, 1938.
(Bowker Author Biography)
Library Journal Review
Considered by many to be the best Western novel, Wister's work essentially defined the genre, both in print and on film, and also created the archetypal Western hero: the strong silent type who rides in from the range and saves the day by shooting the bad guys full of holes. Like many in the genre, this also features a romantic subplot. This 100th-anniversary edition was produced in tandem with the Buffalo Bill Historical Center and has color and black-and-white art by Western artist Thom Ross. A beauty. (c) Copyright 2010. Library Journals LLC, a wholly owned subsidiary of Media Source, Inc. No redistribution permitted.